Gabriella Comer White, a mother of four, was known for her hospitality, deep faith and service to her church and community in Birmingham, Alabama, where she was a frequent devotional speaker and served as a board member of Birmingham Southern College, the Girl Scouts and the YWCA.
Yet, she also lived a life of adventure and discovery, traveling the world with her husband, and was known for her savvy and outspoken candor.
In short, Gabriella lived a gracious life of balance that was distinctive, giving generously of her time and talents and appreciating the beauty and inspiration of the world around her.
How fitting that entrepreneur William White IV named the family-owned furniture and lighting company he founded in 2010, Gabby Home, after his late grandmother.
"My grandfather served on the board of Northwest Airlines, and my grandparents traveled the world together. My grandmother and I shared the same passion for travel, discovery and worldly inspiration that makes Gabby special," said William, president of Gabby Home.
Gabriella is a family name belonging not only to William's grandmother, but also to his sister and niece. As a bonus, "The Gabby name has all the elements of a good brand. It is short, simple, easy to remember, and says that we are first and foremost a family business. We also hope that our customers and prospects always "gab" about our products in a positive way."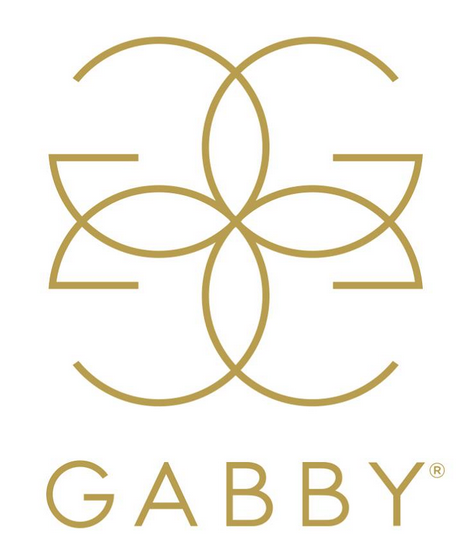 Gabby Home seeks to design each furnishings item as a statement piece to inspire conversation. That's certainly the case for the Caroline Chest, a beautiful vintage-style chest with delicate beadwork, artfully carved legs, burlap covered front drawers, exquisite hardware and antique white painted finish that is named after William's daughter, Caroline.
 The CAROLINE chest is the featured item in our second #TimelessDesign Giveaway, which began July 24. We will continue receiving entries through Tuesday, August 12 at noon EST, on the entry form here.
Like the character-filled woman who inspired its name, the Gabby Home line is designed from diverse influences, equally modern and classic. "We thrive on mixing unique materials together and using inspiration from different genres and periods to create something truly innovative and original," William said.
The result is a line that can be whimsical….
 Or luxurious and sophisticated…
 Or, the Gabby look can be European cottage and with an updated and unexpected eclectic touch…
 Or, Gabby lighting and furniture allows you to create grand and manor-like room with an inviting warmth.
 "Gabby is constantly shifting to accommodate the eclectic lifestyle that defines our customers."
Perhaps that's why the line that prides itself on "creating décor with a story" has not only survived, but thrived, in the last four years, despite being founded in the heart of the Great Recession.
Today, Gabby Home shows in three major international and regional markets: The #HPMKT, Atlanta and the Las Vegas Market- which opened yesterday.
If you're a designer friend of ours who is now attending #LVMKT [ Las Vegas Market ],where Gabby Home has a beautiful new 4,000 square foot permanent showroom in Building B -316 that you can read about on Gabby's blog, here, please stop in to see the CAROLINE chest in person, and the other lighting and furniture that Leslie Hendrix Wood believes represents the best in Timeless Design.
Just as importantly as its savvy for creating transitional designs with both modern and historical references, Gabby believes deeply in the core values of:
   Honor
Distinction
Pace
Whatever it takes
Making our families proud
"Our purpose is to instill an inspired sense of style with fashionable design from our caring family," William said. This enables people to "create a gracious home through our passion for design, details and savvy, trend-driven product development. We design each piece individually, yet many of our products work together in harmony. When our customers come home from a long day, we want them to walk into a gracious environment where everything feels special and unique. And ultimately, their day is better. Our company plays a role in crafting an environment that makes our customers' and their families feel proud of the home that they've created. It makes us proud. "
Hadley Court is proud, too, to be partnering with a company so passionate about what we believe in: gracious hospitality, integrity, caring and family honor.
We hope that you will enjoy entering to win Gabby's CAROLINE Chest in our #TimelessDesign Giveaway, which only takes seconds to enter on the entry form here.
This antiques-inspired chest is one that would help create a sense of pride in any home of which it was a part, don't you think?
Kim Darden Shaver
for
Leslie Hendrix Wood
Founder, Editor In Chief of Hadley Court
Gracious Living. Timeless Design. Family Traditions.
We invite you to please subscribe to Gabby Home's blog here, and to follow Gabby Home on Pinterest, Instagram, Facebook, Twitter and Instagram here, here, here, here and here and to subscribe to Hadley Court here and to follow Hadley Court on
Pinterest, Facebook, Twitter and Instagram, here, here, here and here.
All photos courtesy of Gabby Home.