Front Porch Pace is Calmer, Gentler, Sweeter
"The American front porch stands for positivity and openness; a platform from which to welcome or wave farewell; a place where things of significance can happen."-Dan Stevens
It's a serene place, a simple place, a place where memories are made and memories are talked about. It's a comforting place with happy sounds, like the creak of a screen door, the soothing rock of a wicker chair, birds singing and a neighbor calling a friendly "hello."
These are the sounds, the rhythms of the American front porch.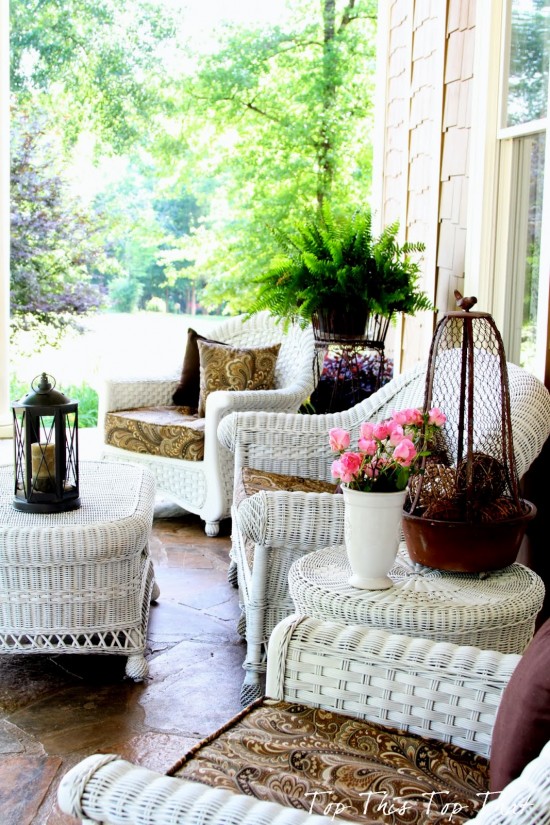 Is front porch sitting a lost art?
In our performance-driven society, as we rush for newer, faster and better, are we missing out on a gentility and simplicity epitomized by an hour spent on a porch with a dog snoozing at our feet, a cup of tea in our hand and a friend in the chair next to us?
In her book, "Gracious Living in a New World," well-known author and interior designer Alexandra Stoddard notes that today's fast-paced, electronics and text-addicted society makes it challenging to create a life of awareness, attentiveness and appreciation. "Is it easy to achieve such a life? Definitely not. Is it possible? Absolutely, positively, certainly, yes," she writes.
The quest for gracious living in our new world must be intentional and deliberate. Among our friends in this quest: front porches, screen porches, back porches and the like.
In her book, Stoddard outlines Ten Principles of a Gracious Life. One of those principles is Ease. She explains, "We need to be quiet and tranquil, secure in the ease and comfort of our mind and heart. We need relaxation and a moment's peace in order to live graciously, and when we do find this sense of calm, we experience greater dexterity in our performance."
She concludes, "By backing away, we move forward with grace."
While this principle of relaxing and "letting go" in order to ultimately accomplish more seems counterintuitive, the wisdom of this principle is profound and proven.
As usual, American culture can be one of contradictions. On the one hand, America is considered the "productivity capital of the world" and the most driven, intense society on earth. Unlike our European friends, we don't do siestas or afternoon tea or take long vacations and holidays.
On the other hand, the porch –an icon of ease and openness – is distinctly American in its architectural and cultural impact. In the mid-1800s, a well-known landscape gardener, Andrew Jackson Downing, wrote of his vision of the American home and how it could stand apart from English architecture. The porch was key in this distinction. Downing saw the porch as the link from the house to nature. It served as a transitional space between the privacy of one's family to the public realm of the street.
The porch is at once a place for private reflection and relaxation, and an open door to the community and neighborhood for animated conversation and connection.
The experience of community-building through front porch sitting is deeply embedded in the memories of my husband, who grew up in the 1970s in a rural area near Pinehurst, N.C. He recalls how, on Sunday afternoons after the family had returned from church and cleared the dinner dishes, they couldn't wait to make their way to the front porch. Sitting out on the front porch was like hanging a sign that said: "Open for Conversation." As people drove by on the well-traveled country road and saw his family sitting on the porch, many would take a turn into the driveway and climb the steps to sit awhile.
If the porch is distinctly American, it is even more so distinctly Southern American. The cover of the current issue of Southern Living Magazine is dedicated to porches with the headline, "Welcome Home: The South's Prettiest Porches."
As we conclude our musing on porches, we'd like to show you three of the prettiest Southern porches we've seen. The first porch, which was also showcased in our opening and third photo, is the gracious veranda at Two Meeting Street Inn Bed & Breakfast in Charleston, S.C., one of the most photographed porches in the world:
Here on the front porch of Two Meeting Street Inn, guests enjoy layers of natural beauty while reading or indulging in afternoon tea and surrounded by century-old live oak trees, palm trees, lush gardens, a manicured lawn and cherry red azaleas.
Another iconic front porch is this one at Magnolia Hall, one of the guest houses at Savannah College of Art & Design (SCAD):
And isn't Magnolia Hall's porch inviting at night?
And this charming front porch at the Biltmore Village Inn   near Asheville, N.C. commands a 360-degree view of the Blue Ridge Mountains and overlooks the Swannanoa River Valley:
Listed in the National Register of Historic Places, this elegant Victorian mansion was built in 1892 by Samuel Reed, the lawyer of George Vanderbilt, the original owner of the grand Biltmore Estate, the largest private residence in the U.S.
There's a country music song by Tracy Lawrence titled, "If the World Had a Front Porch." Some of the lyrics go like this:
"If the world had a front porch like we did  back then,
We'd still have our problems, but we'd all be friends.
Treatin' your neighbor like your next of kin,
If the world had a back porch like we had back then."
His song begs the question, "What would life be like if the world had a front porch?"
 Most importantly, what would your life and my life be like if we could cultivate a "front porch state of mind?"
Dear reader, you may or may not have a front porch, screen porch, back porch, deck or veranda. But regardless, our wish at Hadley Court for you is that you will be able to cultivate that front porch state of mind. That you, in the words of Alexandra Stoddard, can intentionally find time to "be quiet, tranquil and secure in the ease and comfort of your mind and heart, that you may find peace in order to live graciously."
And may you start your journey to a calmer, gentler, sweeter place, even today.
Kim Darden Shaver
for
Leslie Hendrix Wood
Founder, Editor In Chief of Hadley Court
Gracious Living. Timeless Design. Family Traditions.
~~~~~~~~~~
You're invited to please subscribe to Hadley Court blog, here, and to follow Hadley Court on Pinterest, Facebook, Instagram and Twitter, here, here, here and here
All photos attributed in the blog except: