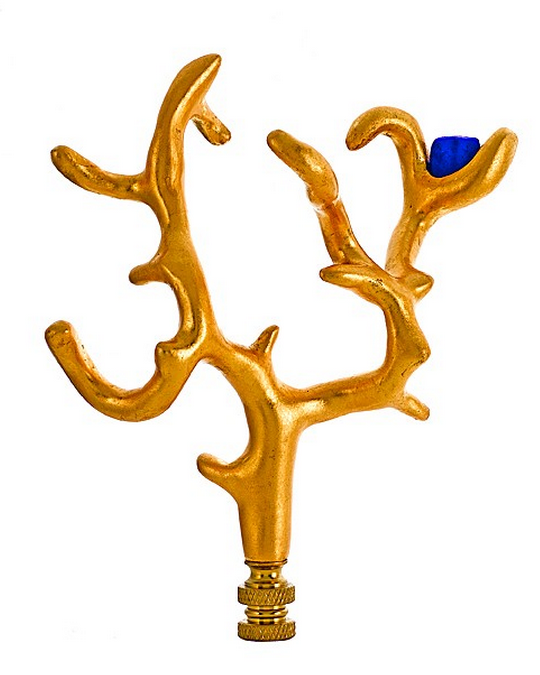 Is anything prettier than a beautiful finial as the perfect finishing touch for a table or floor lamp in your home?
In the past few weeks, here on Hadley Court, I've been writing quite a lot about lighting, here and here, and today, I wanted to continue this series for you, dear readers, by focusing on finials.
What exactly is a finial? Per Wikipedia, "A finial is a terminal structure at the top of a spire, gable, gate post, pinnacle or other point of relative height."
Finials have a fascinating history in design and architecture, and at the bottom of this post, I've linked to an excellent blog on this topic, but for now, just enjoy some gorgeous, inspirational images of fabulous finials!

One of the reasons to hire an interior designer, even when dealing with something as apparently simple as a finial, is because there are so many small details they must think through for you to make sure the overall lamp will be functional and correctly proportioned between the base, lampshade, and finial.

Here's an idea of just 4 design details a luxury interior designer like Leslie Hendrix Wood will consider for you:
1. What type of wire fitting does the lamp have that you want to use? Your lamp needs to work with a lampshade with a spider that fits over the harp, as you can see above, in order for a finial to function with it.
2. Then, does the color of the spider match the color of the finial riser? Does the spider need to be custom painted, lacquered or covered to work with the finial?
3. Is the threading on your lamp's harp European or standard? What is its diameter? Will it work with the diameter and the threading inside the finial you've chosen?
4. What is the height of the lamp base, relative to the lampshade and relative to the finial? Will they be correctly proportioned?
As you can see now, getting these details and proportions just right for you is why you might want to #hireadesigner.

A decorative finial, like the two shown above, designed by Hillary Thomas, can make or break that small corner in your room. When designed brilliantly, you will have a small shiver of delight every time you turn on the light!
And, if you want to invest in gold, the finials of NYC's Eduardo Garza, shown in the opening photo and in the photo below, made with genuine gold and your choice of semi-precious stones, are the ultimate in a gorgeous finishing touch for your luxury lighting.
~~~
Leslie Carothers
for
Leslie Hendrix Wood
Founder, Editor in Chief
Hadley Court
Interior Designer
Leslie Hendrix Wood Interiors
Midland, Texas
~~~
Gracious Living. Timeless Design. Family Traditions.
Pinterest
Facebook
Twitter
Instagram
Instagram
The History of Finials
Images 1 and 8: http://eduardogarza.com
Images 2, 4, 6, 7: http://hillarythomas.com
Image 3: House Beautiful
Image 5: 55 Downing Street