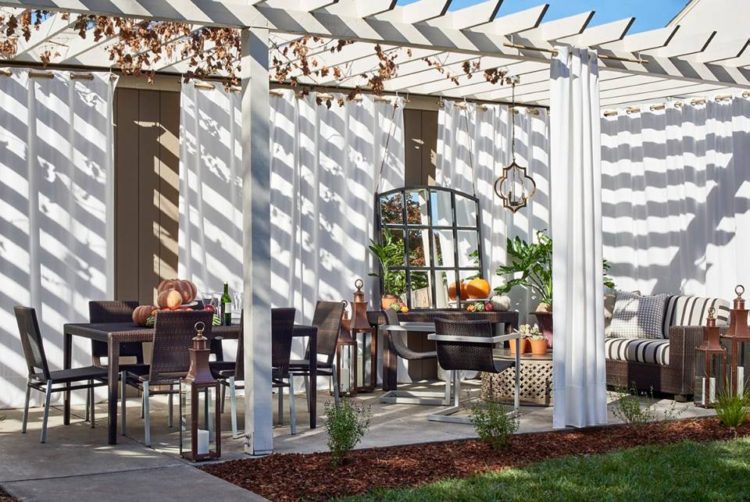 Even with record heat in many parts of the country, the days are getting shorter and the nights are getting crisper. As August draws to a close, many are thinking about outdoor entertaining for the Indian summer and fall season.
Let's take a spin through some fall outdoor decorating and design ideas, and preview some exciting trends you can expect to see this fall and beyond.
The opening photo and the one above are from a Traditional Home showhouse in Napa Valley, California furnished by Woodard.
The centerpiece of assorted pumpkins reflects a soft, organic and natural approach to fall decor.
The setting above is designed by Barclay Butera at a Sun Valley, Idaho residence. The client wanted to take advantage of his personal vistas of the Knob Hill while entertaining family and friends.
The rustic modern feel was achieved with neutral colors and accents of pewter, glass and stone–enhancing the natural, earthy feeling of the surroundings. The result is a blending of the living spaces with the exterior vistas for a harmonious transition.
This summer, Butera made the exciting announcement that he is partnering with luxury casual furniture brand Castelle to create a line of outdoor furnishings. "I'm thrilled to be able to partner with Castelle for my line of outdoor furniture launching at High Point Market in Spring 2017," he said. "The collection will have my signature glamorous but livable West Coast vibe." Butera recently toured the Castelle manufacturing facility to begin developing his line.
As design imagination turns to warmer fall color palettes, "The sophistication of outdoor fabrics is unlimited," said Jaclyn Hirschhaut, vice president of the American Home Furnishings Alliance. "Indeed, the covers are so attractive and performance-oriented that many indoor upholstery resources are tapping these fabrics."
"Interesting is the application of decorative trims and buttons and decorative accents like outdoor pillows, rugs and lighting to complete the welcoming appeal of a room with no walls!"
As nights grow crisper, America's love for fire pits seems to know no bounds for the ambience they provide to outdoor entertaining late into the evening. The design of fire pits has developed beyond the chat group to be integrated into dining and bistro tables as a decorative detail.
Here's wishing you warm and welcoming moments this fall spent in your rooms without walls!
Photo credits: Photos 1 & 4–Woodard; Photos 2 & 5-8–Barclay Butera; Photos 3 & 9–Klaussner Outdoor; Photos 10 & 11–Traditional Home Magazine; Photo 12–California Outdoor Concepts.
Kim Darden Shaver
for
Leslie Hendrix Wood
Leslie Hendrix Wood Interiors
Interior Designer
Midland, Texas

Owner, the Hadley Court blog
We invite you to please click the links below to follow Hadley Court on our other social channels ~