Whether you love minimal or maximal spring decor throughout your home, there are endless Easter home decor ideas! From pastels & peonies to some rustic looks, don't be afraid to incorporate what inspires you. Not quite sure? Keep reading to see some of our favorite Easter home decor ideas!
Easter Home Decor Ideas
Photo via Tuesday Morning
Photo via Family Circle
Incorporate Pastels & Florals
Pastel and floral-inspired decor might be the first thing you think about when it comes to Easter home decor ideas. One of the reasons we absolutely love Easter and spring is because we love to see more color in the home. The best part? If you're unsure of what color scheme to go with, you can pair virtually any pastels together for a soft and pretty look.
Photo via My Rustic Farmhouse
Photo via Dream a Little Bigger
Keep Things Light & Bright
Incorporating Easter decor into your home is all about keeping the atmosphere light and bright. Your plain white dishware and napkins are going to come in handy, making it easy to add pops of color. With strong Easter colors like Kelly green and bright pink, it's important to keep the background surfaces simple and clean!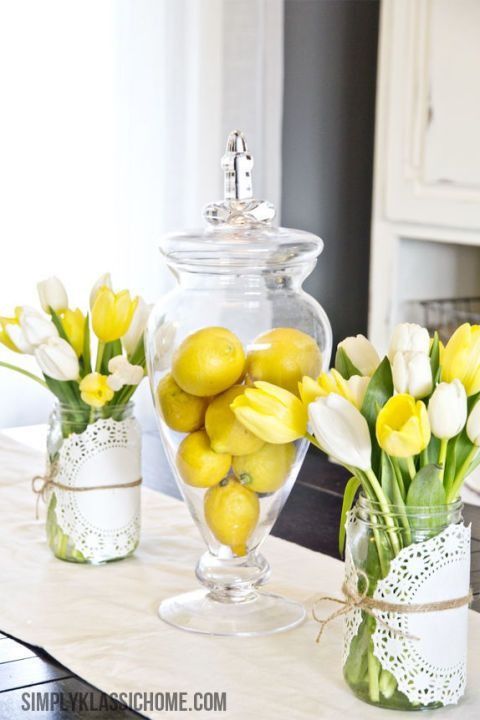 Photo via Country Living
Photo via Pier 1 Imports
Utilize Twine & Burlap
The best way to add some rustic touches to your Easter home decor is through natural materials like twine and burlap. While you don't need an overload of the two, keep them at hand to add them strategically throughout your home as you see fit. If your staircase is in need of a little something, pull out the burlap and consider all the draping possibilities. If you're hosting an Easter brunch, utilize the twine to tastefully tie the napkins or silverware. Look to these organic materials to add a perfect finishing touch to almost any part of your home decor.
Photo via Frugal Coupon Living
Photo via Notey
Bring the Outside In
If you want to incorporate nature into your Easter home decor, bring the outside in. Whether it's roses from your garden or freshly sheared grass from the backyard, think about all the ways you can make them fit into your decorated areas. We love how these little additions brighten up the home.
---
Now that we've given you visuals of how beautiful and festive your home could look this Easter, it's time to go forth and put your decor dreams into reality!
What do you think about these Easter home decor ideas?