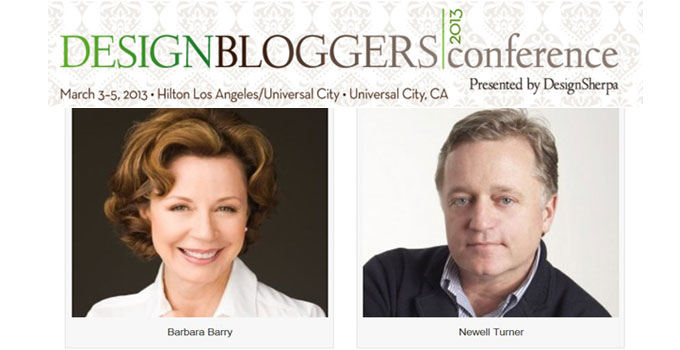 I am off to Los Angeles tomorrow for the Design Bloggers Conference. We are so honored that Hadley Court has been nominated for Best New Design Blog of 2013. Regardless if we win or not, we are so appreciative to be included among the other wonderful blogs: CJ Dellatore, Donna's Blog, Kitchen Ink and Social Light. I am so excited to attend the conference. The lineup of speakers is a dream come true for any design lover. I can't wait to hear Newell Turner, the editor in chief of the Hearst Design group speak. He is responsible for the editorial direction for Elle Decor, House Beautiful, and Veranda~SWOON! I look forward to hearing Barbara Barry speak.  Barbara is an award-winning designer who loves infusing simple pleasures in the everyday. A girl after my own heart. The stellar lineup goes on and on- Adam Japko, Windsor Smith, Charlotte Moss, Tobi Fairley, Leslie Carothers…
For those of you who want use twitter, follow me at Hadley_Court. You can click this link to follow https://twitter.com/Hadley_Court. Follow Hadley_Court and all of my updates will show up in your feed. You can also follow all the tweets associated with the conference at #DBC2013. You can also follow me on Facebook to get all the latest conference scoop. Just click the link and like Hadley Court and all our updates will show up in your feed https://www.facebook.com/pages/Hadley-Court/.
I also want to give a big thank you to all the sponsors who have made this conference a reality.
Stay tuned during the week as I share all the exciting information I learn at the conference.