The classic combination of decorating with blue & white is a design favorite. Especially for spring & summer!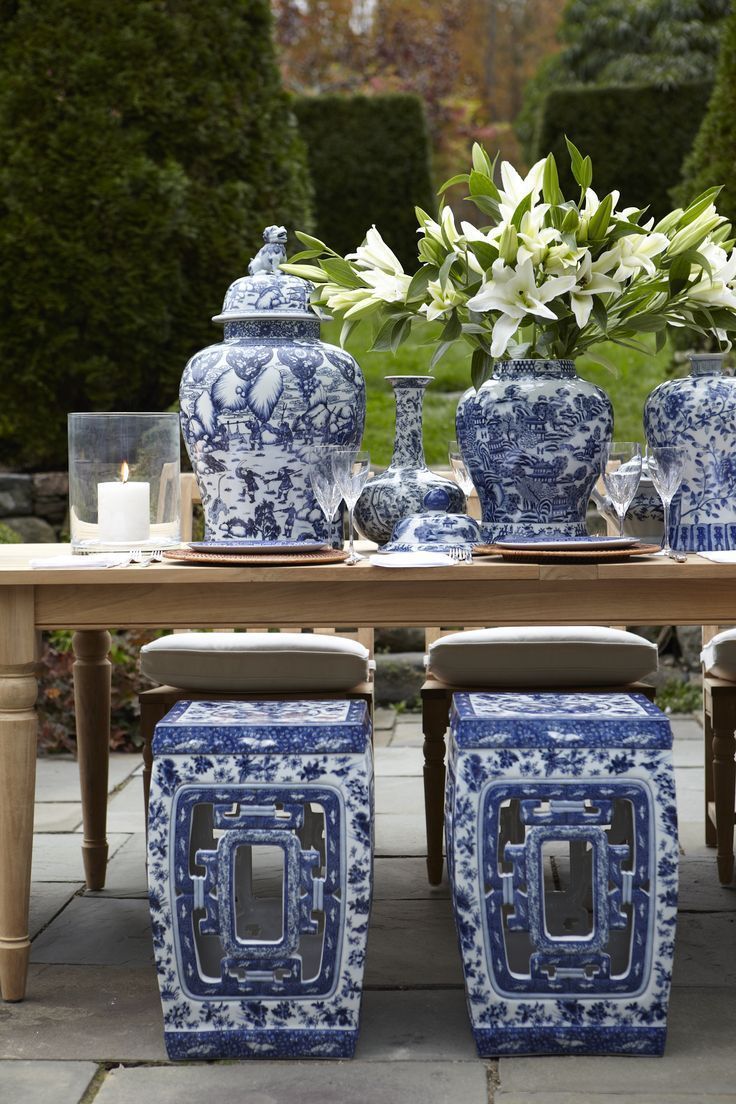 The combination of blue & white is so crisp and clean. Similarly, the color palette tends to add a bit of freshness to a space. This is true whether indoors or out.
The History of Blue & White
Throughout the history of decorative arts in interior design, decorating with blue & white have been combined to create timeless classics. For instance, think of Delft and Transferware, Jasper Wedgwood, and Chinoiserie.
Decorating with blue & white, in organic and geometric patterns, can be seen on all kinds of vases.  In addition in ginger jars, planters, garden stools and tableware for outdoor living, as seen in the above image from chinoiseriechic.net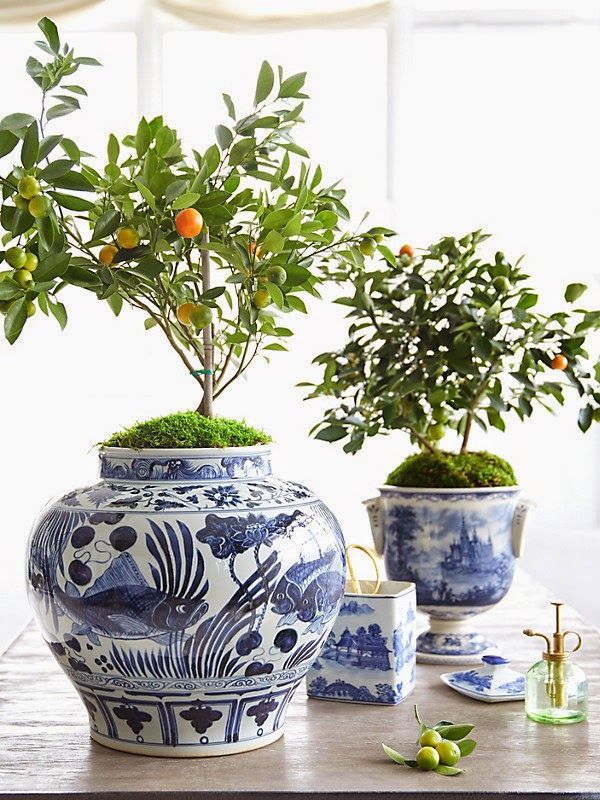 Decorating this Spring
Therefore this spring, pull together your collection and get decorating with blue & white.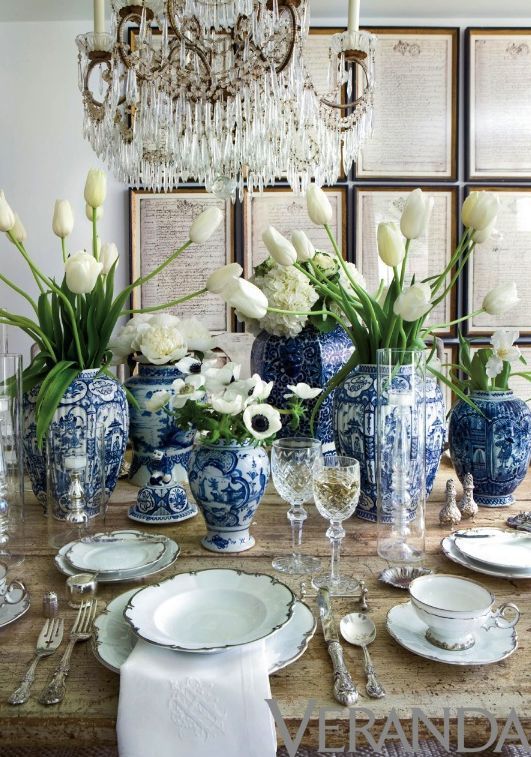 Think blue & white vases. However, it's not just vases that you need to think of for blue and white decorating. Think planters and platters to create a refreshing vignette on a mantle. 
Accessorize with Blue & White
Accessorize with blue & white. Decorating with blue & white is perfect when you invite guests over for tea. For instance, we love this beautiful set above that creates class and luxury. 
(image via Carolyne Roehm)
When decorating with blue & white, add an element of blue to your mirrors and white to your flowers. Or even flowers on top of a gorgeous chair.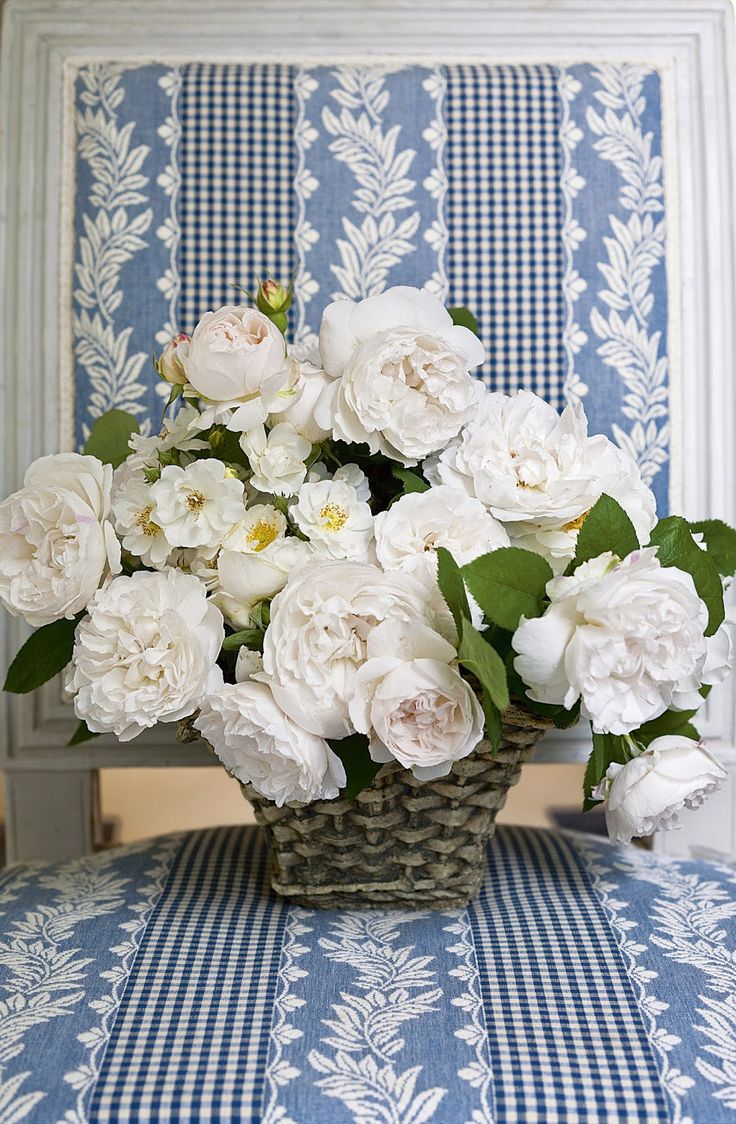 Above all, remember to think outside of the box when accessorizing with blue & white. For instance, how about a beautiful blue & white dress?
(images via Roberto Cavalli dress – Aerin Lauder vases)
For instance, what about a nice feature of illustrated blue & white eggs or a back chair?
(images via ostereier-kratztechnik eggs – oval back chair textile brunschwig & fils – chair sold on ebay)
In other words, we love decorating with blue & white and really enjoy these vases in all shapes and sizes.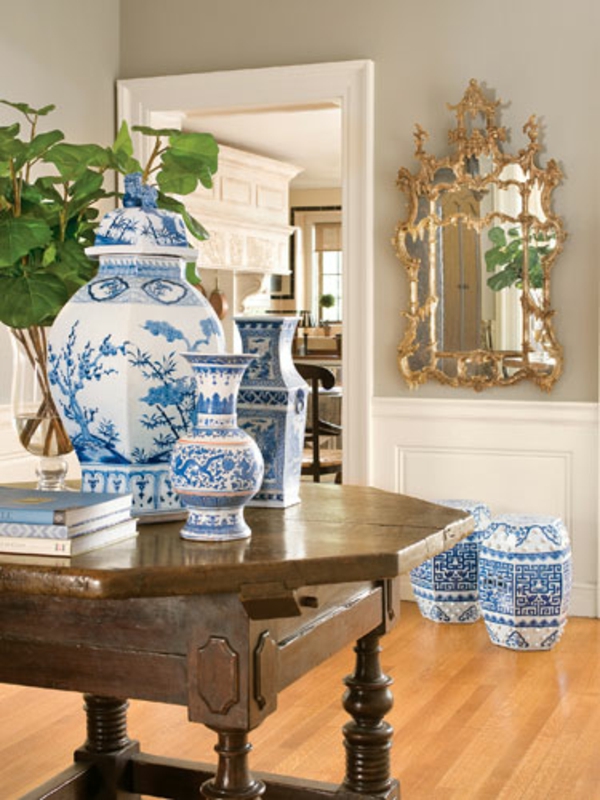 After that, blue & white can work on an entry pedestal table and hallway console. Similarly, use on a kitchen island, or even a delightful tablescape for springtime entertaining, indoors or out. 
(image via Traditional Home)
For additional decorating with blue & white inspiration, you may also enjoy this book, A Passion For Blue & White by Carolyne Roehm. 
Beautiful Vases
You can even use the vases and urns as a display on their own if you prefer to without the flowers.
For instance, here we love the blue & white jewelry boxes that add a nice finishing touch.
In addition, what about adding beautiful blue & white peonies to your vase?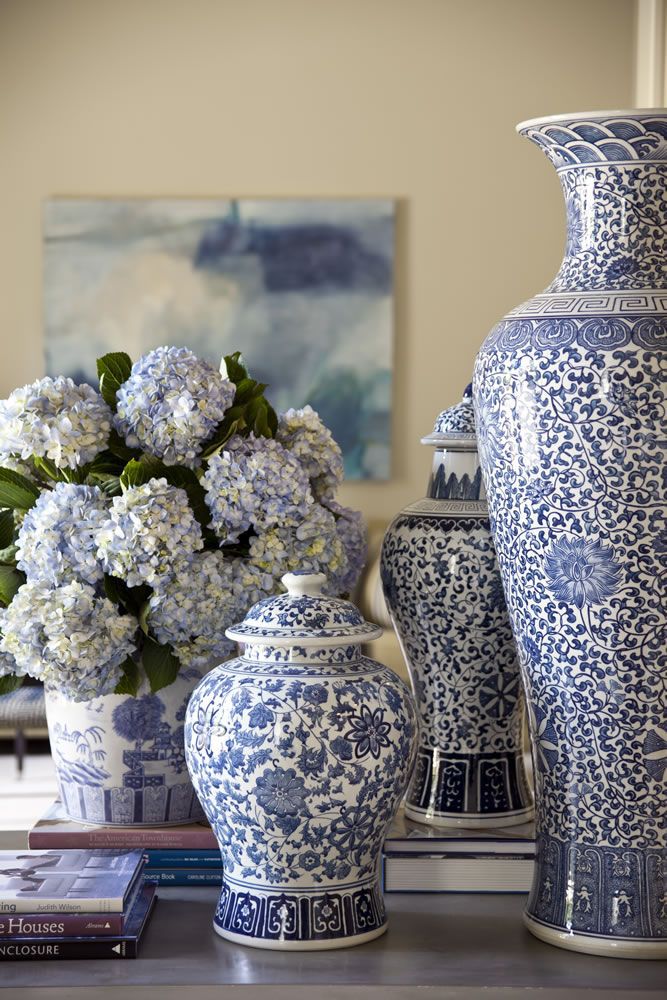 How about a blue ribbon to a white stool?
In conclusion, be sure to read a previous post from Hadley Court contributor Leslie Carothers, Blue & White Porcelain Decorating Inspired by Spring
As always, thank you for reading Hadley Court. We appreciate YOU.
~~~
Lynda Quintero-Davids
for
Leslie Hendrix Wood
Decorator
Chancellor Interiors
Midland, Texas
Founder, Editor In Chief
Hadley Court
~~~
Gracious Living. Timeless Design. Family Traditions.
We invite you to please follow Hadley Court on