When I begin to see mums & pumpkins scattered across front porches it makes me feel all warm and fuzzy inside!  Like a kid waiting for Christmas, I can't wait for Autumn's arrival.   With it comes a break from the Texas heat & menus full of comfort food.
Spring forward because fall is back
What I love about fall is the outdoor decorations:
Out with the old – in with the new (Mums)
I always look forward to decorating my porch for Fall.  I usually start with mums.  They are simple, traditional and provide bursts of Autumn colors.
When picking mums, make sure they are not in full bloom, the stems are not bent or broken and the leaves are green. Make sure the container you choose is sturdy to support the clusters of blooms.
Anything goes with Fall Foliage
It's fun to create your own bouquet of fall foliage like these.  The best thing is you can use your imagination to hold your arrangements.
I've used buckets, wagons, crates, and pumpkins to hold my arrangements.
Pumpkin Decorations – Knives not allowed
Pumpkins come in all shapes, sizes & colors.   If you can't find one to fit into your theme, just paint some!  This is a popular trend in Fall decorating and the possibilities are endless.
One small gold-painted pumpkin is all that is needed to make this arrangement sparkle.
Don't be fooled
These albinos are pumpkins and still orange inside!  Using only one color, but many shapes, sizes, & texture creates a stunning decoration.
Back to Nature and Rustic Fall Decor
Pinecones, leaves, hay & wood are the elements that make up this rustic fall décor.   The gold & brown colors paired with the black & white paint and really make this front porch a stand out.
Cozy comfort
Add pillows & cushions to your outdoor furniture in fall colors.  You can choose from a color palette of nutmeg, spice, maroon, eggplant, purple & gold.  This porch invites you to come sit down and relax in Fall's splendor!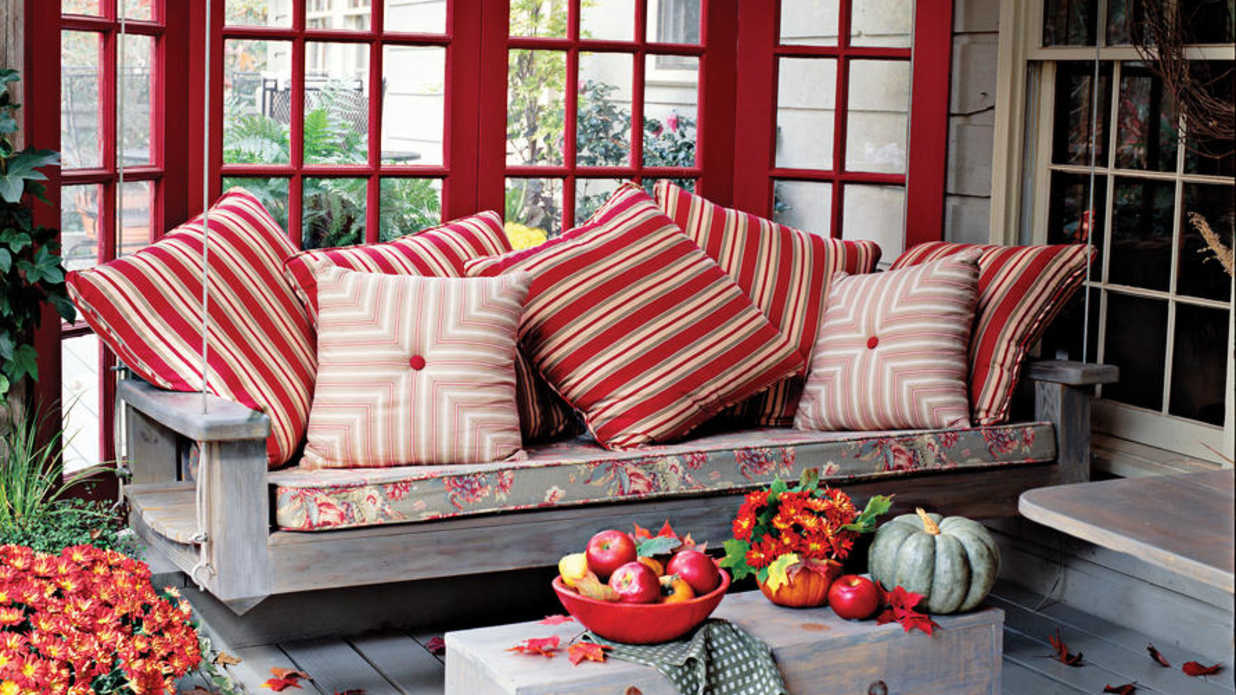 Front Porch Inspirations – Let it all hang out 
Here, they've carried their front porch decorations out into the flower beds and yard. In addition to a wreath for their door, a garland surrounds the door frame.  Do you see the window boxes full of greenery and mums?
Door swag
This luscious doorstep is accentuated by the climbing vine garland around the front door.  The greenery is used in the potted stacked pumpkins & floral arrangements for a distinctive visual effect.
The beauty of this sunflower vine is it's simplicity.
Polka dot ribbon & colorful letters make this a playful front door.  The door is flanked by planters with painted stacked pumpkins which add to the fun!
Orange is the new black
Every nook and cranny of this front porch has been decorated in shades of orange.  The cushions on the chairs are in a spice color accentuated by pillows depicting a fall scene. Stay warm with the fringed throw draped over one of the chairs.
Imagine it and it can be found somewhere on this front porch!  Garlands, painted pumpkins, hay bales, scarecrows, wheel barrel, & rocking chair all go together to leave a lasting impression.
Happy Halloween – My Favorite Fall Decorations
Your fall decorations will complement whatever you choose to put up for Halloween!  From serene to scary,  it all works!
Here are a few of my favorite fall decor essentials…
Photo credits:  Southern Living, Lowes, Woman's Day, Pottery Barn, annickgiradin.info, Schlage, Porchview, The Rustic Elk, PlyGem, Etsy – HomeHearthGarden, Williams Sonoma, Brylane Home, Pier 1 Imports