The first thing I do every morning is turn on my coffee maker – I can't wait for that first cup of coffee.  I have a small coffee station set up on my kitchen counter.  All the ingredients for a savory cup of coffee are right at my fingertips!
Coffee bars are becoming a staple in homes today.  Big and small, simple and elaborate, the possibilities are endless.  You can DIY and create a custom coffee niche in your home that will be a great place to start your day or spend an afternoon with friends.
Notice what you love about these top trending coffee station ideas and find one to spark your imagination!
Venti
Open wide and pick your coffee of the day!
This coffee station cabinet has enough space to accommodate everything you need.  When your finished just close the cabinets and leave your kitchen clean and clutter free!
Morning Joe
Wake up to this coffee station every morning where the pull out shelf adds extra space for pouring and mixing your coffee.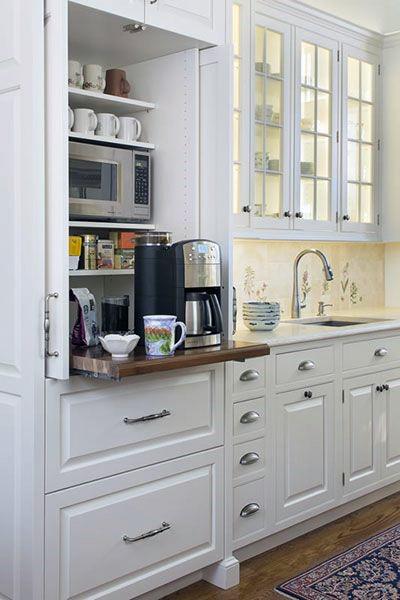 It's Hot!
This modern hutch does double duty as a coffee and wine bar.  The colorful coffee cups and red sign energize this space.
Turning your hutch into a coffee station is easy!
The open shelves provide enough space for coffee essentials and decorative items.  Display your favorite china or collectibles where everything is easy to see and reach.
A prep sink in this butler's pantry makes coffee prep and cleanup a breeze.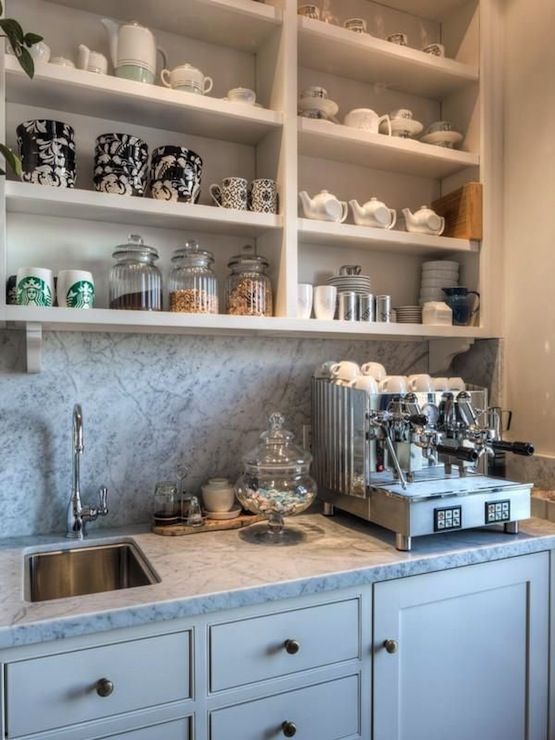 Fresh Ground
The most traditional place for a coffee station is a kitchen countertop.
Using the corner maximizes space for this small coffee station.  The wooden box holds all the condiments and tools needed to make a delicious cup of coffee.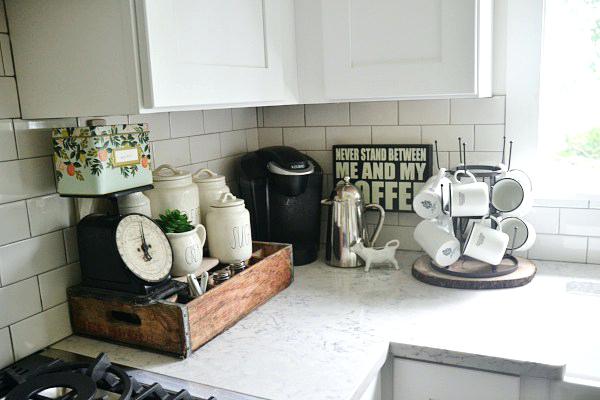 With Foam
Grab your favorite coffee cup and fill it with a frothy, sweet mixture of coffee and milk.
The copper coffee maker and mugs are something you don't see every day and all it takes to create a standout, unique place for brewing coffee.
Smooth or Bold
Drawers and cabinets above and below the countertop are a great place to store coffee cups, coffee, sugars, and silverware.
The silver countertop accessories match the cabinet hardware and tie it all together for a classic design.
Just Black
Simple, clean, and functional.
The way the black and white is used in the sign, coffee cups, and flower pots adds personality to this small coffee station.  The greenery adds a pop of color and freshness to greet you every morning.
Yes this coffee station is cool!
A built-in coffee maker has a sleek, modern appearance besides being on the cutting edge!  Open the front to access components for making coffee.  Includes a drawer for cups with a warmer!
Short and Personal
If you don't have enough space in your kitchen to set up a coffee bar using a cart or side table is the perfect solution.  This acrylic cart is small and will fit into tight spaces easily.  This simple cart looks elegant set with a gold teapot, cups, and glass.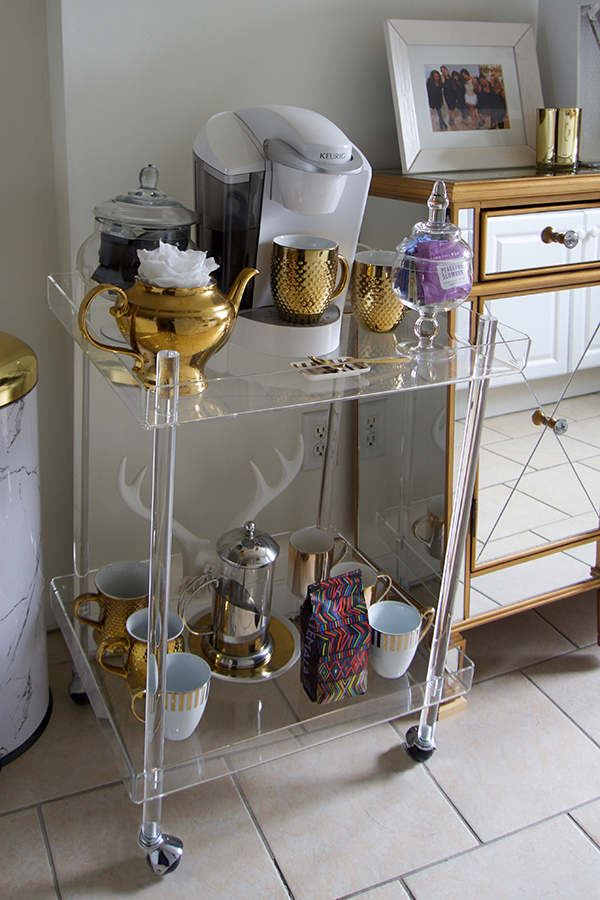 Mornings can be so hectic and the coffee station is probably the busiest spot in your kitchen.
Separating it from the hustle and bustle of the kitchen in the morning is an advantage.
This DIY coffee station includes hanging shelves, hooks, baskets, and boxes for extra storage.  It turns this plain corner wall into decorative, functional, and fun space.
Create a coffee bistro by adding some barstools or chairs next to your coffee station. Be sure to leave enough space for food!
Chalkboards and message boards welcome you to this coffee station every morning.
Lots of family photos personalize this coffee bar.   Filling it with mixed colors and patterns makes it a delightful area for sharing a cup of joe.  You'll find the right size cup for any hot drink you make at this coffee station.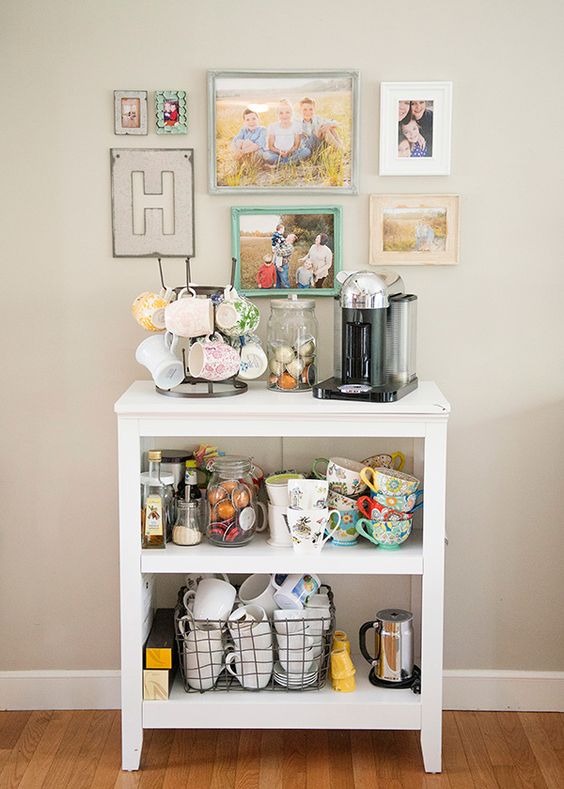 Magic Brew
Coffee stations are a fun place to decorate for the holidays.  Use all your themed dishes to set the holiday spirit.
Pick your favorite coffee from the tree and pop it in the Keurig at this festive holiday coffee station.  Aren't Keurigs the best invention ever?!!
Fill your cups with Christmas cheer throughout the holiday season.
Perfect Blend
Coffee stations add flair to any special occasion.  Popular for wedding receptions, bridal, and baby showers.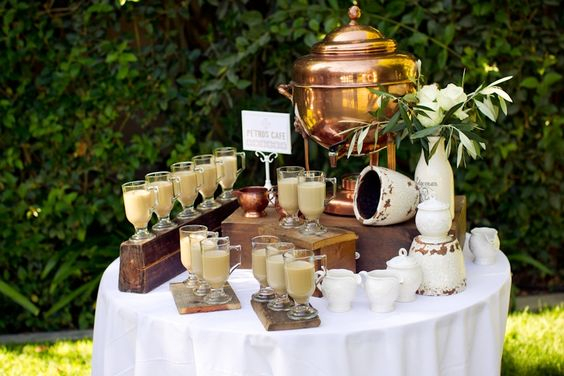 Dressing up a rustic cart and Lazy Susan with silver, china, and flowers looks stunning!
Even those people who don't drink coffee would gather around this coffee cart!
Use bright, contrasting colors on your coffee bar to capture the theme of your party.
Good to the last drop
Americans are drinking more coffee than ever before and starting at an earlier age! Coffee shops have filled our cities and capitalized on our love of drinking coffee.  But when you don't have time to go out for coffee, it's nice to know you have a fully stocked coffee station right in your home.  Perish the thought of not getting your daily coffee!
Photo credits:  Twitter, pinterest, Birtan Sogutma, travelinsurancedotair.com, cedarhillfarmhouse.com, Homedit, digs digs, babywatchhome.com, craft on fire, Meredith Morgan, southernly splendid.com, Roots North & South, shelterness, LC Living, lori kennedy.co, Heather Hungeling Design, Don Pedro, highsol.co, flouronmyface.com, vidbook.me, lanzaroteya.com