Our Top Picks For Christmas Mailbox Decorations!
We love Christmas mailbox decorations from traditional to beautiful. Above all, we love the personal touch.
Bows and berries can all add a beautiful finishing touch. Therefore, today we want to show you some Christmas mailbox decorations that have taken our breath away.
Cindy Rinfret's Family Mailbox
The Christmas mailbox decoration garland swag above, created by interior designer Cindy Rinfret for her family's mailbox, as featured in Traditional Home magazine, took our breath away. In addition, so did the rest of her home, styled for Traditional Home by top stylist, Stacey Kunstel.

Similarly, it was Stacey who gave the owner of this blog, Leslie Hendrix Wood, styling tips when Leslie's Lake Austin, TX vacation home was professionally photographed.
Here's Cindy's Christmas tree. How many ways are there to spell BEAUTIFUL?
Ready?
With Christmas music playing in the background and a cup of hot apple cider in our hand enjoy our top picks for pre-made Christmas mailbox garland swag. In other words, a blessing for all of you who are busy Moms and Dads!
Balsam Hill Christmas Mailbox Decorations
This beautiful Christmas mailbox decoration is from Balsam Hill. We love the different types of greenery incorporated and subtle beauty. Additionally, we can imagine personalizing it with some pretty ribbon!
Unfortunately, the LED-lit version is sold out. However, you can ask to be notified when it is back in stock.
If you love this, too, and would like to order it, click here.
Christmas Mailbox Decorations
from Plow & Hearth
Our second pick is this Christmas mailbox decorations garland swag from Plow & Hearth. For instance, we love the gorgeous red plaid French ribbon, edged in gold, that is already incorporated, and that lends such a festive finishing touch!
For more info, click here.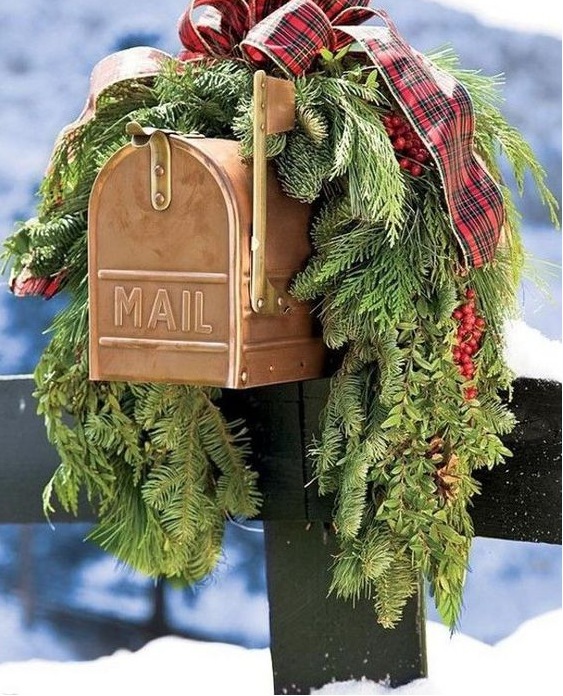 Traditional
Christmas Mailbox Decorations
Garland Swag
We will always, however, here at Hadley Court, have a special place in our hearts for traditional, unique Christmas mailbox garland swag, like the beautiful one below. In other words, we love its dramatic bow and pretty bunches of red berries nestled in the boughs.
However, if you don't have the time to create this yourself, or the desire, your local nursery or landscape design firm will be happy to help you.
For instance, just imagine how much delight it will add to your mailperson's day to see such a beautiful mailbox during their busy, busy holiday delivery season!

Have you created a beautiful Christmas garland for your own mailboxes or do you have a pre-made favorite?
I'd love for you to share about it in the comments – so all of our readers can know!
Above all, thank you and we wish all of you a very Merry Christmas with your families and friends, full of warmth, laughter, love, and joy!