Spring isn't the only time of year to be inspired by flowers. Floral prints can also become transitional design inspirations, lingering from summer, even into fall.
Although springtime can be more of a bouquet of pastels, summer awakens the senses with deeper, richer, more saturated hues.
From roses to peonies, daisies to hibiscus, floral prints are becoming a larger than life trend for fashion accessories, ready-to-wear + couture dresses, furniture accents, and home decor details, from botanical print textiles, as paired above with a Carolina Herrera dress (2013) and Robert Allen new botanicals (2015), to even dark backgrounds for powerful powder room wallpaper. All once again relating back the #NewFeminine design trend that Leslie Hendrix Wood coined at #HPMKT…
Appliques & Needlepoint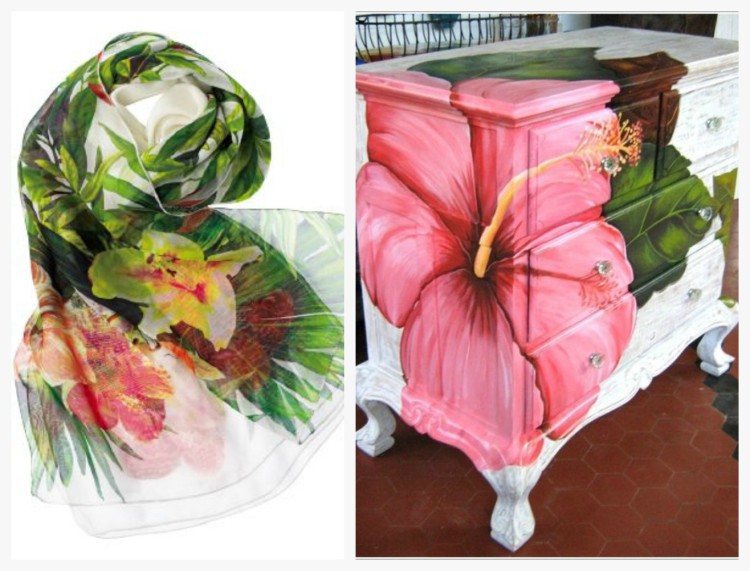 Painted Illustrations
Cabbage Roses
Abstract Florals
I hope you are inspired to layer in a little "flower power" of bold blooms into your wardrobe and room this summer! Also – be on the look-out the newest Fashion Resort Collections featuring florals, as well as more floral trends popping up come October for New York Fashion Week & High Point Market! What are some of your favorite floral fashions?
See more inspirations on the Timeless Florals & Fromentals board on Pinterest!
As always, thank you for reading Hadley Court. We appreciate YOU.
Happy Summer!
~~~
Lynda Quintero-Davids
for
Leslie Hendrix Wood
Interior Designer
Leslie Hendrix Wood Interiors
Midland, Texas
Founder, Editor In Chief
Hadley Court
~~~
Gracious Living. Timeless Design. Family Traditions.
We invite you to please follow Hadley Court on
Facebook
Pinterest
Twitter
Instagram
Photo Attributions:
Appliques & Needlepoint:
Dress – Dolce & Gabbana Fall 2014 ~ Milan — Chair – Custom needlepoint chair by Marie Berbar – Needleworks, LLC
Painted Illustrations:
Scarf – Blumarine, Vogue.co — Commode – designanddiymagazine.com
Cabbage Roses:
Dress – asos.com marketplace via pinterest – Powder Room Makeover – Cupcakes and Cashmere
Abstract Florals:
Dress — Hollie May Saker by Marcin Tyszka for Marie Claire Italia February 2015 — Room – Bluebellgray Somerset Collection UK