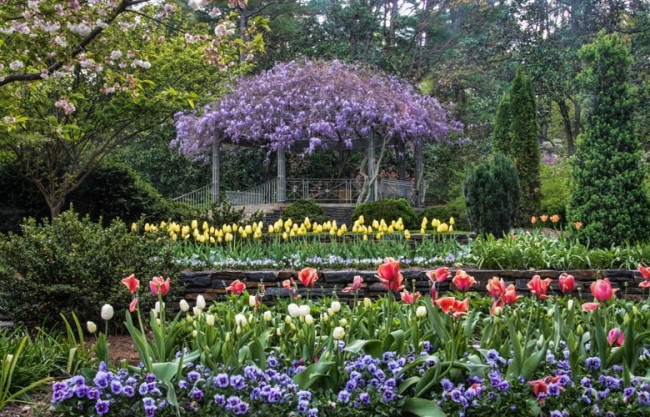 "The soul cannot thrive in the absence of a garden."–Thomas More
There's a pure beauty about flower gardens that lifts and enlarges the spirit, stirs the imagination and delights the senses.
Perhaps that is why, about this time of year, my heart sings as the daffodils and tulips begin to appear. After months of a cold, barren ground that lay dormant through a harsh winter, it's pure therapy for me to get my hands back into the soil and begin planting again.
As spring arrives and I prepare to once again to don my gardening gloves, there is no place more inspirational for me and my family to visit than Sarah Duke Gardens in Durham, N.C., 55 acres of botanical gardens on the campus of Duke University. The gardens, which were both financed and designed by women, are just adjacent to the famous Duke Chapel.
Sarah Duke, wife of Duke University benefactor Benjamin Duke, gave $20,000 in 1934 to finance the planting of over 100 flower beds consisting of some 40,000 irises, 25,000 daffodils, 10,000 small bulbs and assorted annuals. After heavy rains destroyed the original gardens a year later, the gardens as they currently exist were created by Ellen Biddle Shipman, a pioneer in American landscape design.
Considered by many to be her greatest work, she designed them in the Italianate Terrace style.
In the middle of the gardens, the following quote by Francis Bacon is inscribed on a large stone marker:
"God Almighty first planted a garden, and indeed it is the purest of human pleasures."
Several lily ponds, Monet-like bridges and water-side stepping stones add to the allure.
An afternoon spent at Sarah Duke Gardens makes it easy to understand why Rumer Godden said, "A garden isn't meant to be useful. It's for joy."
As the poem goes:
The kiss of the sun for pardon
The song of the birds for mirth
One is nearer God's heart in a garden
than anyplace else on earth.
Photos from Sarah Duke Gardens website, by Ildar Sagdejev or by Chan Shaver.
Kim Darden Shaver
for
Leslie Hendrix Wood
Founder,
Editor In Chief
Hadley Court
Decorator
Chancellor Interiors
Midland, Texas
Gracious Living. Timeless Design. Family Traditions.
~~~
You're also invited to please subscribe to Hadley Court's blog,  here, and to follow Hadley Court on Pinterest, Facebook, Instagram and Twitter, here, here, here and here.