I am finally home and unpacked from my fabulous trip to Los Angeles for the Design Bloggers Conference. Once again, we are so very honored to have been voted Best New Design Blog of 2013. This was the first time I attended the conference, but it certainly won't be my last. It felt like old home week in some odd way. Although I only knew a handful of people when I got there, I felt I left with many new friends. There is something magical that happens when you bring together a group of kindred spirits who love blogging and design.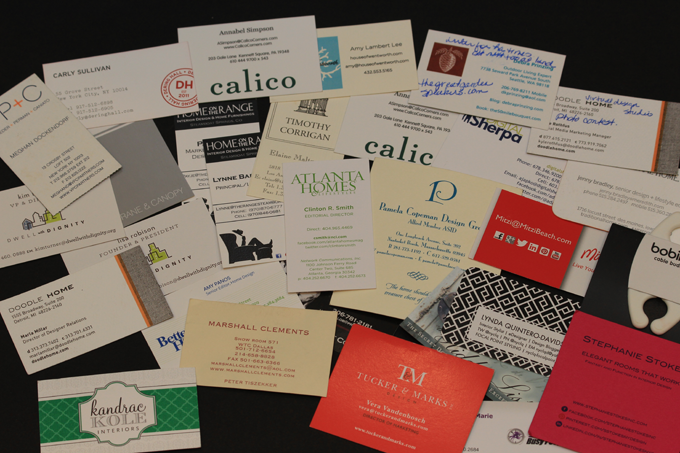 As you can see from my collection of business cards, I met a whole host of new people. I loved having the opportunity to meet all of them. The conference was chocked full of talented and accomplished people.
The lineup of speakers was heaven to any design lover. Adam Japko of Design Sherpa hosted the event. His attitude was contagious. Adam is a wine blogger and added a twist to the conference by adding Evan Dawson and Richard Auffrey to the speaker lineup. Evan and Richard served everyone rounds of wine and sake. How many conferences do you go to where you are served wine and sake? Windsor Smith, a award winning designer, spoke during the conference. What I loved the most about Windsor is her belief that everyone deserves to have beautifully designed rooms. Charlotte Moss was a force to behold. The theme of her speech was "Show Me the Content." She focused on originality, excellence and ethics. She did share in the Q&A session that if she were not a designer she would like to be a country singer and "Belt one out." Newell Turner sparked our imaginations with what the future of print and digital holds. The future marriage of print and digital is beyond our wildest dreams. I can't wait to watch it unfold. I will be bringing you more treasures from Barbara Barry and Patti Austin in future posts.
I was treated to fabulous dinners while I was In Los Angeles. Lamps Plus treated me to a fabulous dinner at Wolfgang Pucks. It was such a pleasure to visit one on one with the fun group of bloggers who attended the event. Fabricut treated me and a small group of bloggers to an intimate dinner at Wood and Vine, a quaint tapas restaurant in Hollywood. Kaari Meng, of French General, spoke about her travels in Europe, her general store, and her line of fabrics with Fabricut. She was an absolute delight. A big thank you to Lamps Plus and Fabricut for including me.
My five top takeaways from the Design Bloggers Conference:
1. Original content rules. Never underestimate the power of your point of view. When it comes to your world, you are already an expert.
2. Video is the next BIG thing.
3. Differentiate yourself in a crowded market. The more specialized your niche, the easier it is to become an authority.
4. Always cite your sources when using someone elses material or photos. Be accurate, respectful and ethical.
5. Social networking and content marketing wins.