From a casual outdoor supper sitting on chambray-covered hay bales, to a formal dinner by candlelight,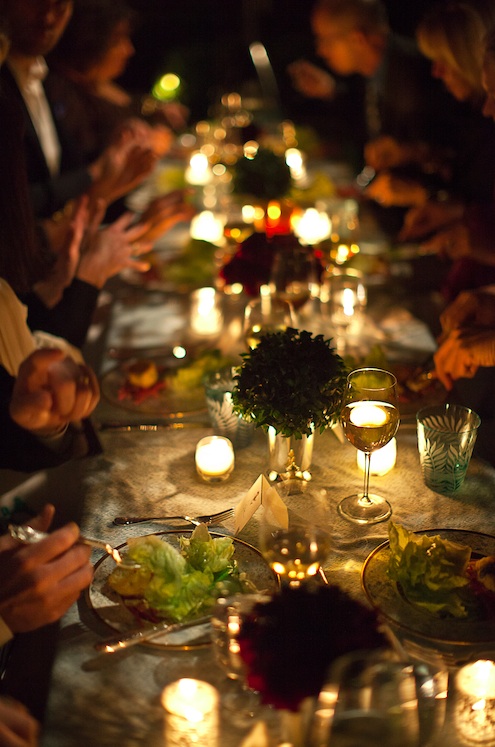 …Danielle Rollins has served Thanksgiving celebration meals on both ends of the spectrum. The Gracious Living and Stylish Entertaining lifestyle expert and best-selling author of "Soiree Entertaining with Style" believes that either can create a Thanksgiving to cherish.
 "For me, the people and my relationships with them are the greatest treasure as well as pleasure in my life," said Danielle Rollins, who is also a contributing editor for Veranda Magazine.  "I'm happiest when surrounded by my friends and loved ones. As I always say, it's the people, not the food or the décor, that makes for a great party," she told Hadley Court. Originally from Dallas, Danielle now lives in Atlanta and told us that…
…just spending time with family and friends makes for my ultimate special occasion."
Both the elegant candlelight dinner with china, crystal, linen and beautiful flowers and the bright, happy, casual fall-themed meal combining chambray, pine cones and white dinnerware with vibrant and unique floral arrangements were held at Danielle's spectacular Atlanta home, Boxwood. The feel-good arrangement above combines magnolia leaves, sunflowers and pyracantha , while the unique arrangement below combines amarathus, rose hips, and redish poms.
Danielle says that both her mother and grandmother were great cooks, and "my favorite 'heirlooms' are the tried and true, sometimes modern interpretations and improvements, on old family recipes. No Thanksgiving would be complete without my grandmother's and now my mother's new and improved dressing and my grandfather's pear cake with lemon glaze."
Her family's favorite recipe is a healthy but yummy dish,  Cranberry-Pecan Tarts, with cranberries arranged on the bottom of the tart shell and topped with pecans and/or ice cream.
Scroll down on the page here to get the recipe for this delightful dish:
Whatever the menu or the formality or informality of the occasion, Danielle has developed these eight "P's for the Perfect Thanksgiving:"
A. Planning. Plan B and plan for disaster!
B. Presentation. Just like in fashion, don't focus on trends but what looks good on you. For those who are intimidated in the food arena, remember: it is not what you serve but how you serve it. Do not let your kitchen-phobia stop you from creating memories you will cherish for a lifetime! Add your own personal flourishes and make it pretty, keep it pretty.
C. Polish. Polish your house, your silver and yourself. Everything is better with some sparkle!
D. Personalize. Monograms, names and details are what separate the ordinary from the extraordinary.
E. ImPROVISE. Neccessity is the mother of all inventions.
F. APPropriate. For you. Don't bite off more than you can chew, doing something for 6 is easier than 60. The idea is not to kill yourself, there is no blue ribbon for survival.
G. Positive attitude. If you enjoy yourself, others will too.
H. Post-its! Low fi seating plan and little papers will help you remember what on earth you had originally intended to do!
While Danielle entertains with the rich and famous regularly, her three children are "my constant joy." With them and other family members, she enjoys playing the "Thankful Game"…taking turns saying what each is thankful for.
"Gratitude is everything," she said. "If you lack that, you lack everything. And in this day and age of 'entitlement,' I think it's important to teach a little thankfulness for what you have, not focusing on what you don't have.
Kim Darden Shaver
for
Leslie Hendrix Wood
Founder, Editor In Chief
Hadley Court
Decorator
Chancellor Interiors
Midland, Texas
~~~
Gracious Living. Timeless Design. Family Traditions.
You're invited to please subscribe to Hadley Court blog, here, and to follow Hadley Court on Pinterest, Facebook, Instagram and Twitter, here, here, here and here