If you're looking for an easy way to add some character to your next bathroom renovation, one of these 9 ways to use beadboard in your bathroom may be the answer!
Beadboard will instantly transform your space, and it's a nice alternative to tile that's fairly inexpensive.
What is Beadboard?
Beadboard is a type of wainscoting. In fact, a lot of people will use the terms interchangeably. But while wainscoting often comes in the form of large inset panels, beadboard features small wood planks vertically lined.
Beadboard is traditionally used in bathrooms, but many people are also using beadboard on their ceilings!
You can find MDF beadboard, vinyl and solid-wood beadboard, too. We like it best used in the bathroom and have rounded up some of the most inspiring beadboard bathroom ideas we could find.
If you think beadboard bathrooms are purely traditional, think again. These bathroom designs run the gamut from coastal-inspired to retro vibes, too.
Here's how to use beadboard in your next bathroom remodel project.
A Floor to Ceiling Beadboard Bathroom
Why stop at using beadboard mid-wall? Consider taking it all the way up to the ceiling.
While these panels are often seen halfway up the walls, they can add plenty of impact when used on the entire wall and on the ceiling, too.
The vertical lines will also make small spaces appear taller and pops of color like in this bathroom make a bold statement.
A Coastal-Inspired Bathroom
Beadboard is often seen in coastal styles and it's easy to see why—it's a perfect match! If you've got a beach house project or love a coastal feel, beadboard will perfectly complement the style.
Soft blue paint and beachy knickknacks complete this look.
Traditional Beadboard Powder Room
For a timeless bathroom design that never goes out of style, consider beadboard paired with a classic penny tile. The black and white mosaic plays nicely with white beadboard and adds interest to the space without needing to tile the walls.
RELATED: Beautiful Black and White Bathrooms
French Country Bathroom Inspiration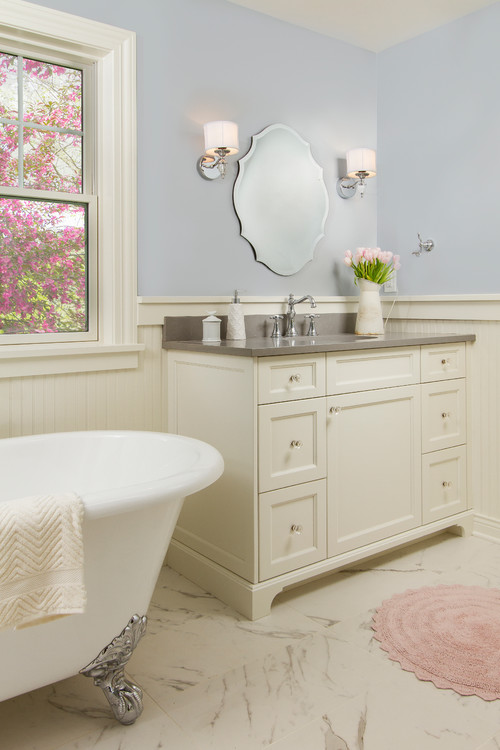 Beadboard is so versatile that you'll see it in classic bathrooms, coastal bathrooms and even French Country! It's all about what you pair it with.
When accompanied by a classic marble tile and baby blue paint, this bathroom design takes on a totally French country feel.
A Beadboard Bathroom with Wallpaper
You might be tempted to keep it simple with your beadboard design, but you can absolutely mix patterns and pair your beadboard with wallpaper.
This traditional powder room with beadboard is easy to recreate and full of character.
Elegant Beadboard Bathrooms
Beadboard can be casual since it's often used in coastal spaces, but it can also take on a very luxurious feel like in this elegant bathroom design.
This all-white bathroom is classic, and the traditional finishes upgrade the look of this entire space.
RELATED: Stunning Bathroom Showers
Painted Beadboard
Who says beadboard has to be white? I love the idea of painting beadboard to bring some color into your bathroom, like this one.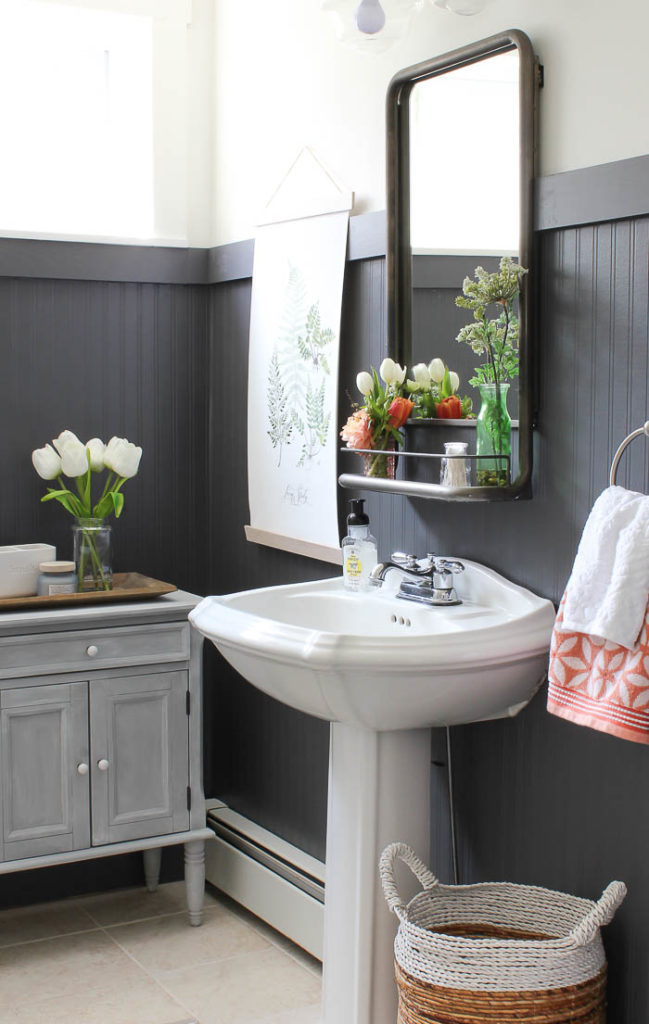 From grey and blues to even pink and hunter green, the sky is the limit on how to paint your beadboard bathroom.
Retro Modern Bathroom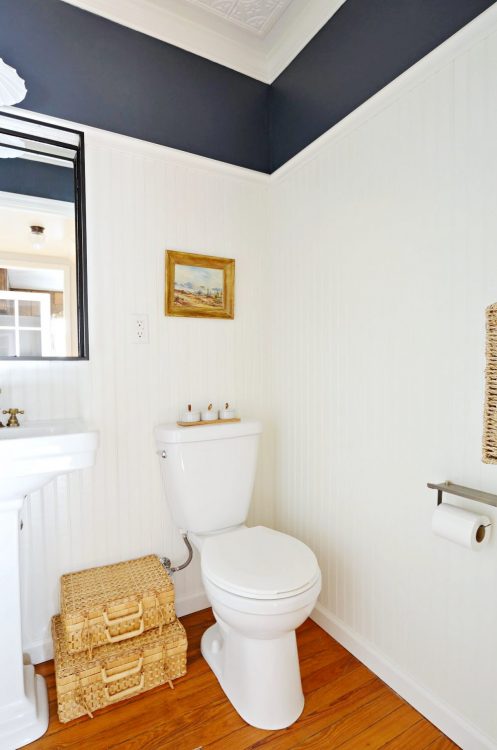 The beadboard almost makes it to the top of the ceiling, but stops just short! It's paired with a dark and bold paint color to really make a statement.
Brass finishes round out the look giving it a vintage yet modern feel.
Horizontal Beadboard Bathrooms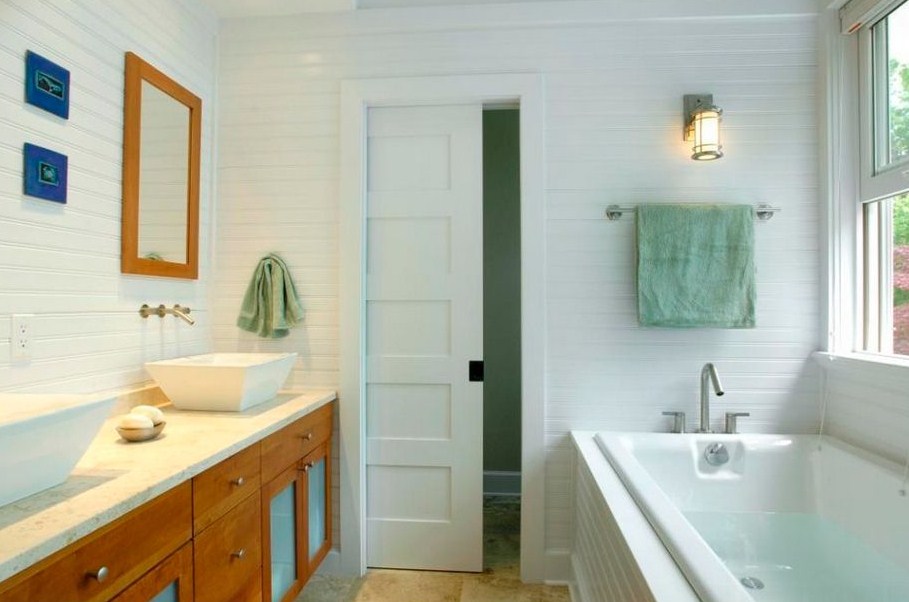 Put a twist on your beadboard and run it horizontally. It's a completely different look!
Wide Plank Beadboard
Wide plank beadboard looks less busy in large bathrooms and what an impact it can make. It's the perfect backdrop for this retro tub!
FAQ's
Where can you buy beadboard? You'll find it at your local Hardware stores and Amazon. Bathroom beadboard should always be moisture-resistant to avoid any potential damage caused by humidity.
Does beadboard come in different widths? Beadboard is generally available in 1 1/2 to 3 inch widths.
Shop Wide Plank Beadboard @ Home Depot
Can you run beadboard both horizontally & vertically in the same bathroom? The answer is yes!
Can you DIY beadboard bathrooms? Yes, beadboard comes in easy to install sheets.

---
What do you think about beadboard used in the bathroom? Does this look inspire you?
Photo credits: Rooms for Rent Blog, The Ransom Company, Simplicity in the South, habitardesign.com, Tara Seawright Interior Design, Brennan + Company Architects, Anchor Builders, L.Thibeault & Assoc. LLC, Joy Martin Architecture