It may surprise you to know that I love a good galley kitchen. They may be narrow, but they don't have to feel small! Actually, galley kitchens can be quite efficient. By keeping everything close, you'll cut down on time running from place to place in the kitchen and you're less likely to drop things on the way.
Below you'll find my tips and tricks for how to make your galley kitchen feel larger and work for your home. Use these to inspire your next galley kitchen remodel!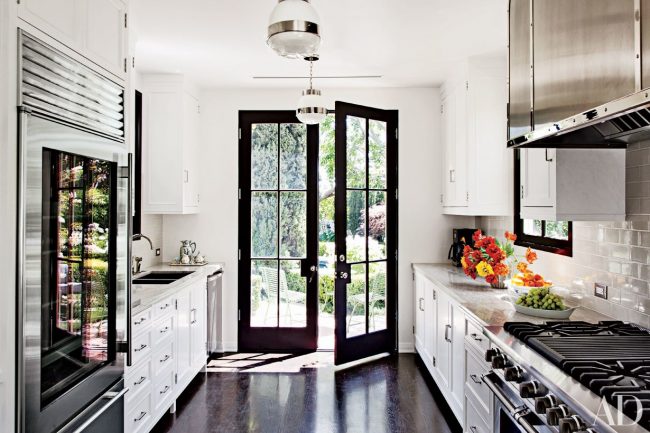 Use the Walls to Your Advantage
Does your galley kitchen end in a "dead end," or a wall? Put that wall to good use! One of my favorite tricks is to turn this wall into a chalkboard. This is a great space for a grocery list, your menu for the week, or even meal inspirations. If you have an artist in the family, you can also turn this into a canvas.
A closed-off wall can make the space feel small, so open it up with some open shelving! Floating shelves keep the space from feeling too weighed down. These shelves can be purely decorative or they can store your most beautiful baking and serving ware. As a bonus, this maximizes your storage space in a small kitchen.
If you have the option, you can also make this closed wall into a pantry or built-in fridge nook. Be careful, though. If you add a pantry or fridge space in a galley kitchen remodel, don't steal from the floor footprint.
You may also enjoy: Declutter Your Kitchen: 15 Kitchen Countertop Organizer Ideas
Use an Island
Adding an island can help create that efficiency I mentioned above while keeping your kitchen open for entertaining. Something to keep in mind with this choice is that if you take down part of a wall, you're also taking the cabinets that go with it.
If you have an open floor plan, don't add an island for island's sake. That won't make your kitchen more efficient; it will simply create another surface for clutter and messes. If you can, install a countertop range or a sink to maximize your space.
You can make this space even more functional by making it an eating area. Look here for my tips on selecting stools!
You may also enjoy: Counter Stool Buying Guide: Choose the Right Height, Style & Color
Let in the light
Galley kitchens can feel cramped (they were, after all, named for the narrow kitchens on a ship). You can make the space feel more open by letting in lots of light.
Obviously, don't build over or remove any windows if you're lucky enough to have one! If your galley kitchen ends in an exterior door, make sure it has large window panes. This will let in the most natural light possible.
If natural light isn't an option for you, use lots of light fixtures to keep the space from having any dark corners. You can also keep things bright by choosing white or light-colored cabinets with high-gloss finishes, perfect for reflecting the light you do have. Speaking of reflecting, choose a mirrored backsplash or install a large mirror on the wall for a literal reflection of light.
While it won't help things feel bright, you can make your galley kitchen remodel feel less cramped by skipping handles and drawer pulls. Flat surfaces make less clutter visually and physically.
You may also enjoy: Our TOP 3 TIPS For Choosing Statement Lighting
Symmetric vs. Asymmetric
When it comes to the layout of a galley kitchen remodel, you have two options: symmetrical or asymmetrical.
In a symmetrical galley kitchen, one side reflects the other. If the left side has an oven, the right side has a sink in the same spot, etc. This can be visually appealing, especially in a modern or contemporary home that uses lots of clean lines.
While a symmetrical layout works for some homes, it doesn't work for others. There's more visual interest in an asymmetrical layout. It might also be cost-effective to keep your stove and sink on the same side of the kitchen if you're constrained by plumbing and gas lines.
Mix up Your Materials
One of the issues of a galley kitchen is they can sometimes feel long and monotonous (even with an asymmetrical layout). If sleek, long lines don't go with your interior design style, you can add some interest to your galley kitchen remodel by using a variety of materials in the room.
Some glass panels in your upper cabinets are one easy way to not only mix materials, but also create more surfaces for reflecting light. Add in granite countertops and stainless steel appliances and you've got 4 different materials to help break up the long lines.
You may also enjoy: How to Break Up All-White Kitchens
Don't be Afraid to be Quirky
You know I'm all about making a space truly yours. Your personality should show in every room, no matter the style! That's why I think you should feel free to add some individual details to your galley kitchen remodel.
In a narrow space, there are fewer opportunities to accessorize. Look to the floor! I love the idea of a fun ceramic tile or pattern. Your floor tiles can really wrap up the details of your kitchen and communicate your decorating style, without cluttering anything up.
Another fun way to show your personality in your galley kitchen remodel is with a pop of color! You can do something as small as colorful drawer pulls, or as much as painting your cabinet doors. It's your space, so you can do what feels right to you. This adds to the brightness in your kitchen, too.
You may also enjoy: 11 Cabinet Paint Color Ideas that Aren't White!
If you follow the tips I've shared above, your galley kitchen can be efficient, fun, and beautiful. I hope these bits of inspiration will help you dream up the perfect galley kitchen remodel!