Can you believe that Pantone has been releasing their Color of the Year for almost 20 years? From only a few primary colors, they've selected a vast rainbow of shades to represent the taste of the year. They're the masters of blending tones and picking up subtle nuances in the shades.
This year, Pantone is welcoming Classic Blue into the Color of the Year lineup. Interestingly, variations on blue have been showing up on the Color of the Year lineup since its inception in 2000. The first Color of the Year was Cerulean, a dusty sky blue. (It was also made popular in Meryl Streep's scathing rant as Miranda Priestly schooled Andy in "blues" in The Devil Wears Prada.)
A clean and cool color, Classic Blue is a timeless shade to use in your home. Pantone says:
Instilling calm, confidence, and connection, this enduring blue hue highlights our desire for a dependable and stable foundation on which to build as we cross the threshold into a new era.
Who wouldn't want to walk into their home after a long day and feel the soothing embrace of this color?
Personally, I adore this choice! Bold colors, like Hale Navy from Benjamin Moore or dramatic black interior doors, make large rooms feel intimate and give gravitas to smaller rooms. When incorporated into the design well, they're tasteful and elegant. Richer hues a la Classic Blue also balance other "heavy" elements in the room. Think larger pieces of furniture and other deep colors in the room.
Learn how to use Pantone's Color of the Year, Classic Blue, in your interior designs with a few of my favorite tips for designing with blues!
How to Design with the Color of the Year, Classic Blue
Metallics Rule
Rich blues, like the Color of the Year, Classic Blue, work very well with metallic accents. Use Classic Blue in combination with metallics on your drawer pulls and other hardware, picture frames, lighting, and more.
A note on metals: yes, mixing metals is a thing that folks do now. Gone are the days when silver and gold couldn't appear next to each other! Warm tones, like bronze or gold, with Classic Blue are time-tested pairs. That said, you can mix in silver, for example, when done tastefully. Learn how to mix metals in your home like a pro in this post!
You may also like: Dreamy Blue Kitchens
Blue and White, Timeless and Elegant
You cannot go wrong with blue and white! It's both simple and sophisticated. It shows off your elegant side yet is comfortable and welcoming.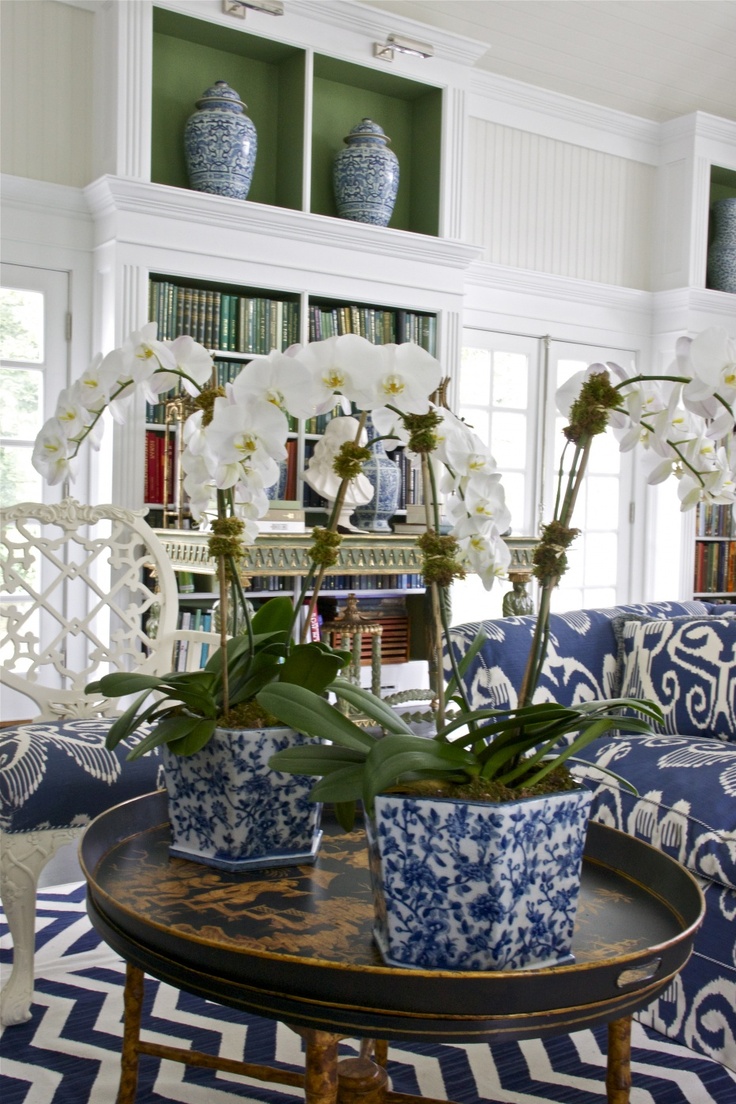 It reminds me of white and blue porcelain. I'm not alone! It's a favorite color combination of many decorators and this Color of the Year is the perfect blue to use in your blue and white designs. Hello, it has classic in the name!
You may also like: Welcome Wednesdays: Decorating with Blue and White
Make a Statement
While most will opt for paint or throw pillows in the Color of the Year, why not try incorporating Classic Blue in the room's upholstery. A chaise or couch will punch up a living room. A rich headboard will make your bedroom a calming escape. Add slipcovers in blue to dining chairs to bring style to your dining room.
When in doubt, just go for it, as Phoebe Howard says! Blue is a striking hue that is incredibly versatile. It plays well in every room and with almost any design style.
Rich hues can be focal points throughout your design. They can also blend with your color palette to create balance and harmony in your room. It's all about how you choose to add it into your interior design!
How are you going to incorporate Classic Blue, into your home this year?

Photo credits: House Beautiful, The Cottage Journal, Carolyn Roehm, Newsday, Fashion Trendsetter