I've thrown a lot of fabulous parties in my day, but nothing quite compares to a birthday, especially a milestone birthday. And a 60th birthday is a milestone and should be celebrated in a spectacular way!
Now, just because I've successfully thrown amazing parties doesn't mean it didn't come with a headache and some stress. What will the celebrant like, what happens if the weather is bad? You want to throw a fantastic party and the host always absorbs any negatives that come along so no one is the wiser.
Never fear, I've rounded up my favorite ideas and ways you can decorate and celebrate in this post so you can skip the stress and just focus on making the party perfect. And don't worry – this post goes beyond picking decor and creating a tablescape so you can create a truly personal 60th birthday party with these ideas. I've even included a guide to throwing your own must-attend party at the end!
Country Living
Without further ado, here are 11 novel ways you can celebrate a 60th birthday in style!
Create A Party Countdown
Kickoff the celebrations for the birthday guy or gal with a countdown! Get friends and family in on the action by sending them each an addressed, stamped postcard and instruct them to send it to the birthday girl with a message of celebration. Customize the postcard with photos, or go another step further and order customized stamps, too!
These cards can either be a countdown to a party the recipient knows about, or they can be used to throw the birthday boy off the scent of a surprise party! Act like the sweet messages from friends and family are the gift and they'll never see a surprise party coming.
Include Those Celebrating from Afar
While you may try your best to schedule the party on a date that works for everyone, it's inevitable that some special people won't be able to attend the event. That doesn't mean they can't celebrate!
Ask everyone who can't make the party to record a short video saying why they love the person being celebrated and compile them together into one video. You can either play the video at the party or show it to the celebrant after the party is over to extend the celebration.
One tip: send directions to each person filming a video (like to shoot in landscape mode or find a white background, for example) to make compiling them easier on you!
You may also enjoy: 4 Easy Steps for Gracious Virtual Entertaining
Montage
Make a Slideshow
Sixty years of life means 60 years of memories. Include some from each year by creating a slideshow you can project on the wall of the party! Ask friends and family of the birthday boy or girl to share their photos with you ahead of time. If this party is a surprise, try to sneak in and get photos from the birthday celebrant as well! If it's not a surprise, you can just ask them – but it might be fun to shock them with this project, even if they know about the party.
greenweddingshoes.com
H
ave a Photo Booth With a Twist
Lots of parties have photo booths these days and why not? It's a great way to remember a special event! Thanks to social media, you can even continue to relive these moments as they are posted to partygoers' accounts!
One way to make a photo booth more original is to fill it with props from the year the person celebrating a birthday was born. Think popular fashions of the day, kids' toys, or even popular décor items. Nothing says 1960's like tie dye and mid-century modern!
The sky's the limit, and it only stands to personalize the party!
Seeking Solace
Nosh on Something Themed
It goes without saying that you should serve the birthday guy or gal's favorite foods or at least foods they enjoy! But if you're creating a themed event, try food from the year they were born or some of their favorite foods from childhood.
If you don't want to go that far, a fun way to make a nod to their age without making it the central theme of the food is to buy candy from their birth year. It's fun to look back in time and see what was popular or how today's brands used to look! Create a dessert charcuterie board with these confections or scatter them among guests' tables as a functional centerpiece.
You may also enjoy: The Gracious Dinner Party – Top Tips for Making Your Guests Feel Welcomed
ebay
Always Have a Signature Drink
Personalize the drink selection with custom cocktails for the celebrant. You can create just one and name it after them or create several that correlate to different themes of their life (one for their field/career, one for their favorite hobbies, one named after their pet dog…you get the idea).
Of course, if the celebrant doesn't drink or you want to include guests of all ages in the fun, you can certainly create custom mocktails. The alcohol isn't what's important here. What's important is focusing on the person who has reached a big milestone in their life!
PartySwizzle.com
Give a Personalized Birthday Gift
Typically guests all bring their own gifts to a party, but a 60th birthday is a great time to have everyone come together for a single, meaningful gift.
My favorite way to do this (and keep your stress down, especially if you're also making a slideshow of photos) is to bind photos into a thoughtful photo book. There are a ton of places that will print this book for you, but I enjoy Artifact Uprising for their elegant, classic look that will fit with anyone's bookshelf decor. Fill it with images and letters submitted by all guests or close family and friends.
If you have a large family, have each member hold a single letter of the alphabet that, when put together, spells out a word or phrase ("We love you grandpa!" for instance). These personal gifts are leaps and bounds better than spending money on things that someone probably already has or doesn't need. (Once you get to 60, there's not much you don't already own!)
Artifact
Go Crazy with Decorations
This is where you get to have a bit of fun! These days, it's very easy to add your loved one's face into almost any decoration – from cake toppers to photo banners to piñatas, you can customize anything. Personalized decorations can be silly, like cupcake toppers of your dad's face, or they can be sweet, like a tabletop photo standee of your parents together at different ages over the years. These small details really add up to make a 60th birthday party something special!
Big Dot of Happiness
Have a Guestbook
A guestbook is a great way to recall who came to a party. Especially when you're the host or the celebrant, you're often so busy at the party that you may not have the time to spend a meaningful moment with everyone in attendance. A guestbook gives everyone the chance to say something special to the birthday guy or gal.
Another unique way to make a guestbook that captures everyone in attendance without having an actual guestbook is to have everyone sign the matting of a photo of the celebrant. You could also scatter cards about the tables with prompts on them like, "Write a favorite memory of you and [Insert Celebrant's Name]" or "What do you love about So-and-So?"
You may also enjoy: How to Host a Classy and Fuss-Free Holiday Cocktail Party
Etsy
60th Birthday Party Games
How much do you know about the decade in which your mom was born? Unless you're a historian, my guess is "not a ton." Put your knowledge as well as your guests' to the test with a trivia game about the decade. It can be about pop culture, government and politics, or even facts about the celebrant. Whatever it is, get everyone involved to learn and laugh together!
Amazon
Make the Day Memorable
If your family isn't into trivia games, another activity that's less "group participation" is to ask everyone celebrating your dad's birthday to stop by the gifts table and write down a memory or two of your dad on pre-designed notecards. Then you can slip those into a photo album or scrapbook and present it to your dad as a way to remember not only those good times, but the party itself.
You may also enjoy: 10 Elegant Tea Party Ideas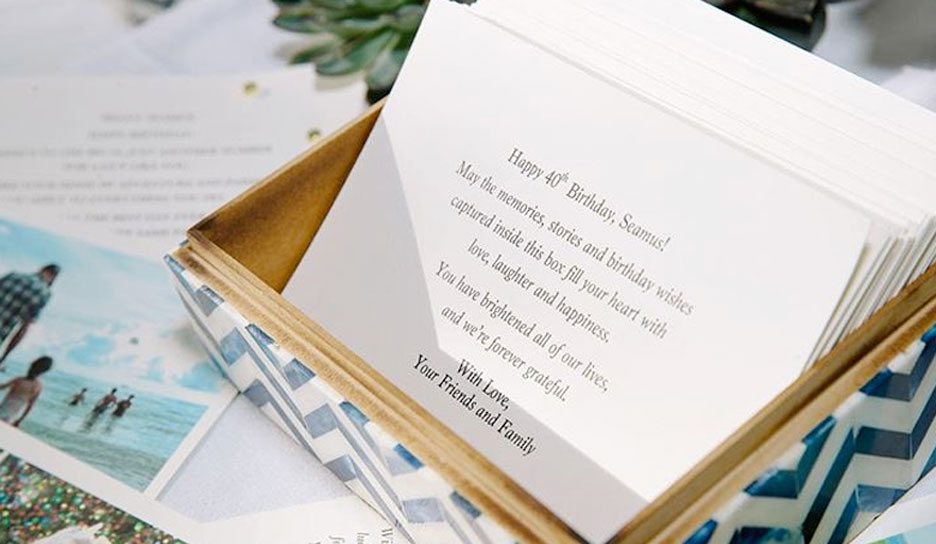 Boombox
No matter what, celebrating a 60th birthday or any other milestone moment is better when done with friends, laughter, and of course good food! Use all of these ideas for a large blowout or pick a few for an elegant soiree that's still memorable and fun. Then, enjoy a 60th birthday party that's light on the stress and heavy on the pleasure.
Let Hadley Court do the Party Planning for You!
To make it easy for you to throw a 60th birthday party (or really any party), I've created a party planner full of gorgeous pictures to use as inspiration, plus full menus, decorating ideas, and links to easily buy the items you love! It is a one-stop guide with plans for parties so you don't have to stress for a second longer about throwing a fabulous birthday party! Snag this resource for $5.00/each today! Get the guides with the links below.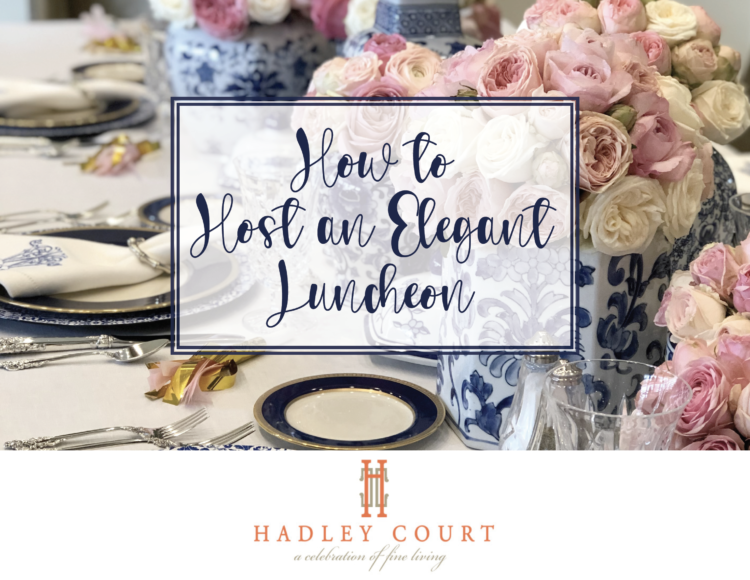 Click here to purchase Hadley Court's Elegant Luncheon Guide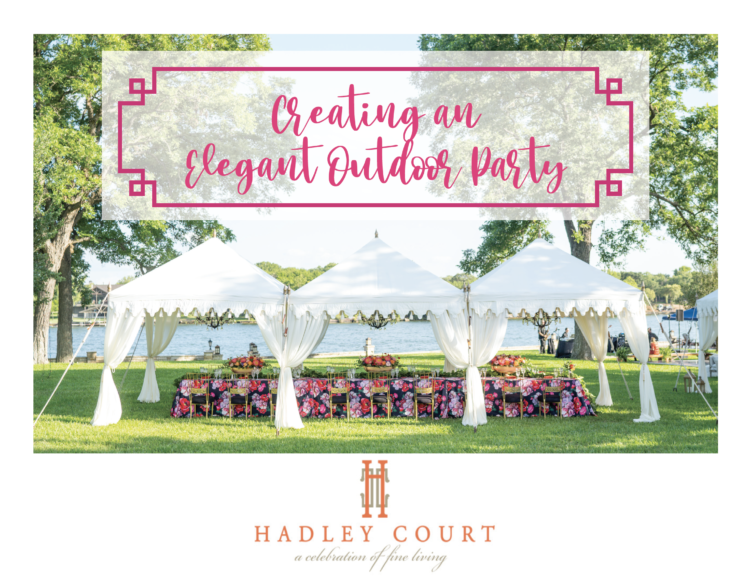 Click here to purchase Hadley Court's Magical Outdoor Party